HEALTH BENEFITS
A. Basic Health Plans

All health plans are listed in The City of New York Health Benefits Program (NYCHBP) Summary Program Description (SPD) booklet. The SPD gives a detailed description of each health plan being currently offered. http://www1.nyc.gov/site/olr/health/healthhome.page

Aetna U.S. Healthcare EPO - WWW.AETNAUSHC.COM

CIGNA Healthcare - WWW.CIGNA.COM/SP

Empire HMO - WWW.EMPIREBLUE.COM

GHI-CBP/EBCBS - WWW.GHI.COM

GHI HMO - WWW.GHIHMO.COM

HIP Prime HMO - WWW.HIPUSA.COM

DC 37 Med-Team/Choice - NO WEBSITE (+1-800-662-5193)

Vytra Health Plans - WWW.VYTRA.COM
An employee is eligible for health benefits and may enroll in the (NYCHBP) if:
A. He/she works on a regular schedule at least 20 hours per week;
B. His/her appointment is expected to last for more than 6 months.
Full-time Employees
Full-time civil service and faculty titles are eligible for health benefits immediately.

Provisional civil service employees are eligible for health benefits after 3 months of employment from the appointment date.
Part-time Employees
Part-time civil service titles are eligible for health benefits after 3 months if:
A. He/she is assigned to work a regular schedule of at least 20 hours per week;
B. His/her appointment is for at least 500 hours for the fiscal year.
Adjunct Employees
Adjuncts - SEE ADJUNCT BENEFITS SECTION
(Click on "Benefits At A Glance" and then select "Adjunct Staff (Teaching and Non-Teaching)")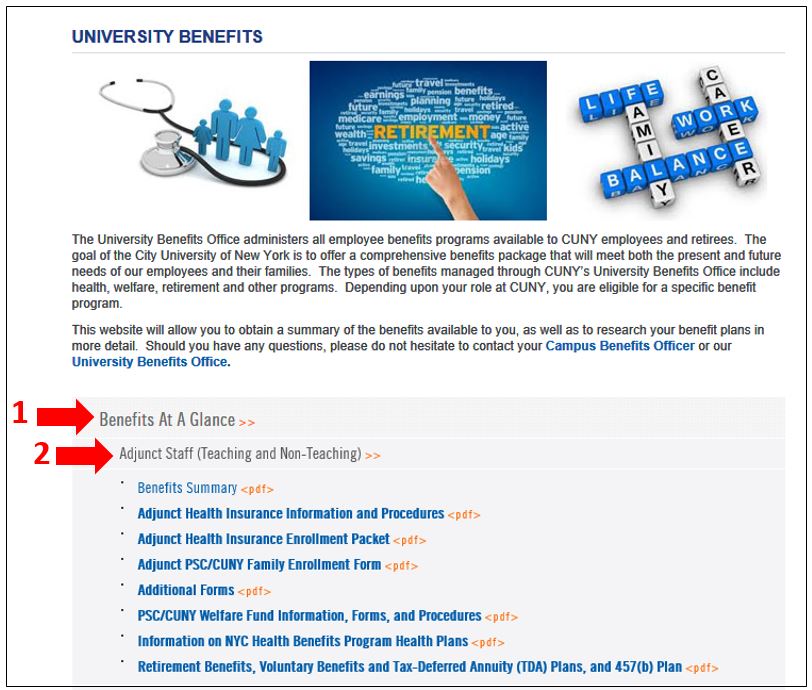 Eligible Dependents
The following dependents, as defined in the SPD, may be included in an eligible employee's health care coverage.
A. Legally married husband or wife. (An ex-spouse is not eligible for coverage under NYCHBP regardless of the provisions of any legal settlement).
B. A domestic partner. (SEE DOMESTIC PARTNER SECTION).
C. Children under age 26 (whether married or un-married).
D. Unmarried children who cannot support themselves because of mental illness, developmental disability, mental retardation or physical handicap.
Double City Coverage
If the, employee and spouse/domestic partner are both employed by the City of New York, double city coverage is not allowed. Each person may have individual coverage or one person may cover both people. The health benefits application should be completed indicating waiver of coverage.
Qualifying Events
Qualifying events that may change the status of an employee's health benefits are outlined in the SPD. Such events include marriage, divorce, birth etc. The qualifying event date will be the effective coverage date provided health benefits application is returned within 31 days of the event. For late enrollment, coverage will begin on the first day of the payroll period following receipt of application.
B. Buy-Out Waiver
An employee may elect to receive a cash incentive for waiving the City health coverage if they have coverage under a spouse's or domestic partner's health plan, through another employer or through Medicare Parts A & B as outlined in the SPD.
The incentive will be $500 for individual or $1000 for family coverage waived.
Buy-Out Waiver Enrollment
To enroll in the Buy-Out Waiver Program an employee must complete the ERB application and the Medical Spending Conversion (MSC) form, which may be obtained in room P203. NOTE: You may only opt for the Buy-Out Waiver Program when you first become eligible for benefits or during a transfer period.
C. Cafeteria Plans
The city offers the following Cafeteria Plans (See Cafeteria Plan Brochure which is available in the Fringe Benefits Office):
A. Flexible Spending Accounts (FSA) Program
B. Health Care Flexible Spending Account (HCFSA)
C. Dependent Care Assistance Program (DeCap)
D. Medical Spending Conversion (MSC) (See Buy-Out Waiver)
For more information on the Cafeteria Plans see Office of Labor Relations website: WWW.NYC.GOV/HTML/OLR/HTML/FLEX_SPENDING/FLEX_SPENDING.SHTML
D. Transfer Period
Health Benefits Transfer Periods are usually scheduled once every year. During this period, all employees may transfer from their current health plan to any other plan for which they are eligible, or they may add or drop Optional Rider coverage on their current plan. This is the only time employees can change health plans. (See SPD)
E. Termination of Benefits
Coverage terminates under the following conditions:
A. The employee stops receiving a paycheck (with the exception of those eligible for SLOAC or FMLA).
B. For a spouse, when divorced from an employee, provided proper documentation is submitted to the Benefits Office.
C. For a domestic partner, when partnership terminates.
D. For a child, upon marriage or reaching an ineligible age.
E. For all dependents - unless otherwise eligible - when the employee dies. (If spouse or domestic partner is eligible for the City health coverage as an employee, and is enrolled as the dependent of the other, the person enrolled as dependent may pick up coverage in his/her own name within 31 days of the spouse's or domestic partner's termination of City health benefits coverage)
HR Links