Kingsborough Center for Teaching and Learning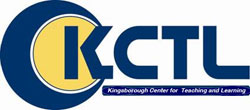 Kingsborough Community College is deeply committed to advancing student learning and supports the efforts of faculty to explore and develop innovative pedagogies.
We do this primarily through Faculty Interest Groups, or FIGs. Faculty Mentoring Seminars, Faculty Writing Circles, and also a number of workshops, including our annual Winter Workshops. The Kingsborough Center for Teaching and Learning (KCTL) has been created to provide opportunities for faculty to engage in professional development and share best practices. To date, over 1000 members of the Kingsborough Community have participated in KCTL - thanks! Also, to share and keep up with developments in teaching and learning practice and research, please click on the link below and...
KCTL is directed by Prof. Ryan McKinney, Department of Communications and Performing Arts (ext. 4809, ryan.mckinney@kbcc.cuny.edu), who is assisted by Jocelyn Figueroa (ext. 5252, kctl@kbcc.cuny.edu)
| | |
| --- | --- |
| | |
| Ryan McKinney | Jocelyn Figueroa |
Please stop by KCTL (M 391), give us a call, or email us for more information and to share your thoughts and suggestions.

KCTL is open, generally, from 9 to 4:30, Tuesdays and Wednesdays. Faculty are invited to reserve the KCTL conference room for meetings of up to 15 individuals; please contact Jocelyn to reserve. Faculty are also invited and encouraged to use the Center lounge area and terrace to meet informally with colleagues to chat about the challenges and pleasures of teaching at Kingsborough.