Office of Institutional Effectiveness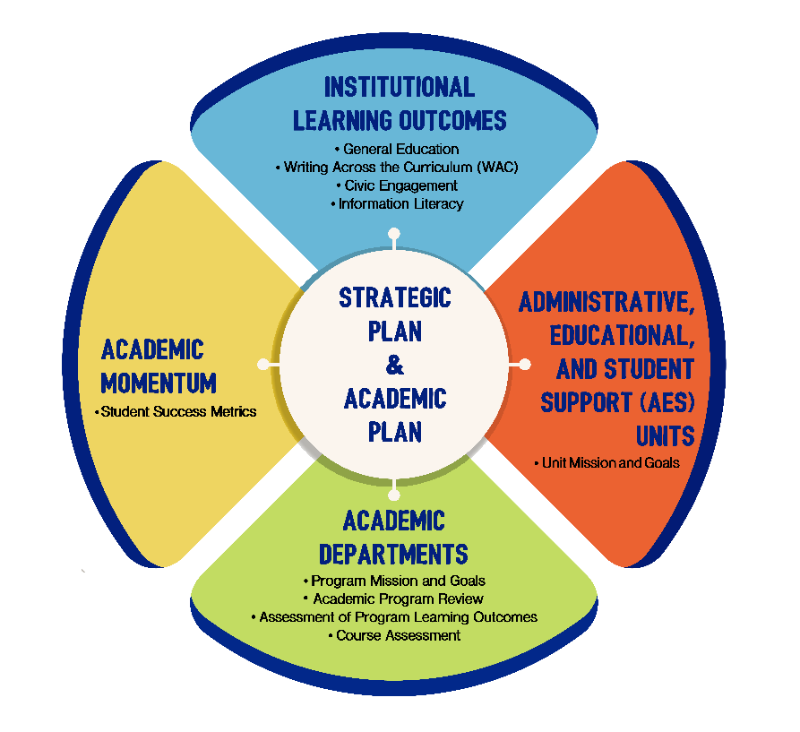 Institutions of higher education use assessment to collect information to better understand a student's learning process, whether or not their academic program is of appropriate scope, depth, and meaning, and to discover patterns, as well as strengths and opportunities for improvement among educational and support programs.
At Kingsborough, our QUEST Assessment Framework is used to achieve these five goals:
Quality: Systematic, sustainable, and continual assessment practices ensure that all programs are continually focusing on ways to maintain high quality and continually strive to make improvements to the community.
Understanding: By collecting and using data, the college can better understand the needs of the students, faculty, and staff; identify best practices for supporting those specific needs; and analyze the impact of programs, supports, and resources on student learning.
Equity: Kingsborough strives to create equitable assessments that help better understand where students are and ensure that they receive the resources and support they need to succeed when transferring to a new college or entering the workforce.
Sharing: Assessment gives us an opportunity to share what we are most excited about! When we collect information about the work we do that lets us demonstrate how a new initiative or change in process has led to positive outcomes, we're collecting evidence that lets us really brag about our work!
Transparency: Having clearly-stated missions, goals, and outcomes means students know where to go to get what they need, and what they can expect- or what is expected of them- when they enroll in a class or declare a major. Sharing plans and results of assessment also allows programs and units to learn from each other by seeing what different units are doing that is helping support students.
Assessment is more than just gathering and reporting data to show strengths and areas requiring greater attention. Assessment is about continually improving how departments and units function: how the KCC community support one another to ensure individuals have the resources they need when they need them and to help our students learn.
Data about the student experience helps us to make decisions about how we can best design our work to support students. Rather than treating this as a finite process, with a definitive beginning and end, our QUEST framework approaches assessment as a perpetual and iterative cycle.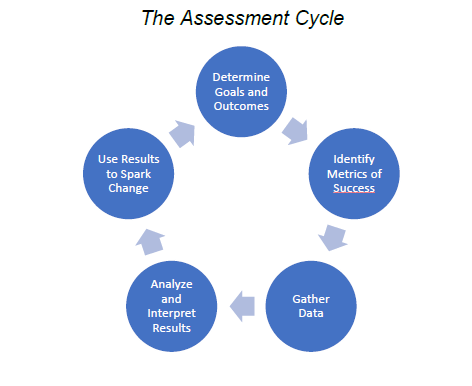 Whether or not your unit is student-facing, we all have the common goal of supporting KCC's Mission and Goals. It's important that each unit across the college know the role they play in contributing to the institution's- and subsequently the students'- success.
Our QUEST starts with the college's mission statement and goals. These are the standards, aspirations, and commitments that the college is making to its students, faculty members, administration as well as the larger college community. In order to better understand how well the college is meeting its mission and commitment to student learning, our assessment process seeks to ask and answer important questions such as:
What role does Kingsborough play in CUNY, the larger NYC community, and the national higher education landscape?
How does each unit at Kingsborough, from enrollment to facilities to the Bursar's Office to enrollment to student support services to academic programs, contribute to the college's mission?
Who are our students? What backgrounds and experiences do they come into Kingsborough with, and what resources, opportunities, and support do they need in order to reach their goals?
What are students able to accomplish during their time at Kingsborough and after they leave it?
What do we want students to know and be able to do by the time they leave KCC, or graduate with a degree in their program? And are students achieving the knowledge and skills we hope they will achieve?
We answer these questions by continually collecting and using data from a variety of sources to provide a complete picture of the institution.
Data aren't limited to information about enrollments, graduation and retention rates, and student course grades (though we do keep that data in mind as well!) Across the college, we gather information about all aspects of the experiences of students, faculty, and staff.
We look at examples of student work, to let us see firsthand what students are learning.
We gather student opinions about their learning experiences through surveys, focus groups, town halls, and informal interactions.
We send out surveys to faculty and staff to understand the working environment at the college.
We interface with the community outside Kingsborough to better understand what skills and knowledge graduates will need when they transfer to another college or enter the workforce.
Once we collect this information, we use it to start a conversation about how we can continually improve how we do our work, and how we can adapt and change along as we work in an ever-changing world. With this information, we can make informed decisions about how we prioritize our work, change our curriculum, or start new initiatives.
If you're working your way through all this information and feeling overwhelmed, don't worry- we've got you! CUNY's Assessment Council has launched its Assessment 101 module, which is open to all CUNY faculty, administration, and staff members. It is designed to teach you the basics of assessment and get you up to speed on any terminology or concepts you'll need to get started. If you're looking for further inspiration you can also check out The Assessment Review, the CUNY Assessment Council's publication, which has articles from assessment professionals as well as faculty and staff who have embraced assessment in their work and want to share their experiences.
You've also got teams of people who can help you track down or collect the information you need, analyze data, and figure out what to do with it. You can try:
The Office of Institutional Effectiveness, which facilitates the integration of assessment, planning, and research to encourage continuous improvement of academic programs, academic and student support services, and administrative services.
The office can provide institutional data, such as student enrollment, retention, and other descriptive data as well as analytical reports to support decision making and accountability. Aside from leading, facilitating, and conducting AES assessments, the office can also assist in survey design for short-term projects and provide guidance on other research projects.
TheKingsborough Center for e-Learning (KCeL) and the Kingsborough Center for Teaching and Learning (KCTL), which can help you with course design and course assessment.
Trying to develop good assessments for your course that align with your course learning outcomes? Looking to revise your course learning outcomes? Or design a new course? Start here!