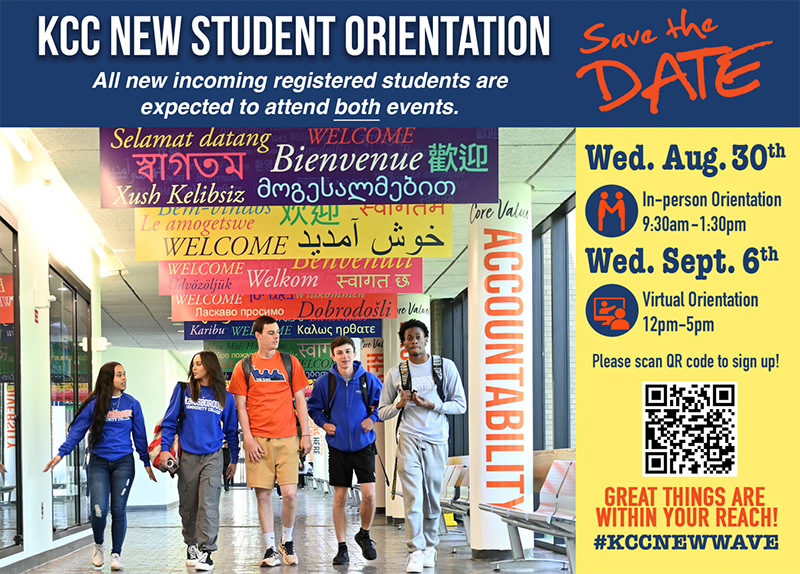 GREAT THINGS ARE WITHIN YOUR REACH!
Virtual New Student Orientation!
Wednesday, September 6th
12pm to 5pm
Sign-in to get the link to attend Virtual New Student Orientation below:
https://us02web.zoom.us/webinar/register/WN_d-PCclSXSfCJGDx-k5VKTQ
---
Title IX: OEO-Office of Equal Opportunity & Diversity 
Management
---
Learn about KCC Values: respect and diversity; Policy on Equal Opportunity and
Nondiscrimination; Title IX and Enough is Enough; What is Sexual Harassment;
Affirmative Consent; and how to report incidents.
This is a self-guided assignment and is mandatory for all new students!
Click here to view presentation
---
Got Questions? We Have Answers!
Welcome to Kingsborough and congratulations on registering for your Fall 2023 classes!
Wondering... Now What? Don't worry, we are here to guide you. From now until the first day of classes, (Friday, September 8th) you will have many opportunities to learn about campus resources, get connected to tools and technology, and set yourself up for success!
Click here to view a "Next Steps" graphic for new registered students
Learn how to setup your KCC email!
Check out the presentation below.
Please note: the main source of communication with the College (faculty and staff) will be through your KCC email.
Student Help Desk Presentation
---
Next Steps:
Other questions? Contact the Office of Student Affairs: student.affairs@kbcc.cuny.edu
---
Need Support? Have more questions?
Other questions? Contact the Office of Student Affairs: student.affairs@kbcc.cuny.edu
---
A Welcome from President Claudia V. Schrader
---
Kingsborough Community College – A Students Perspective
---