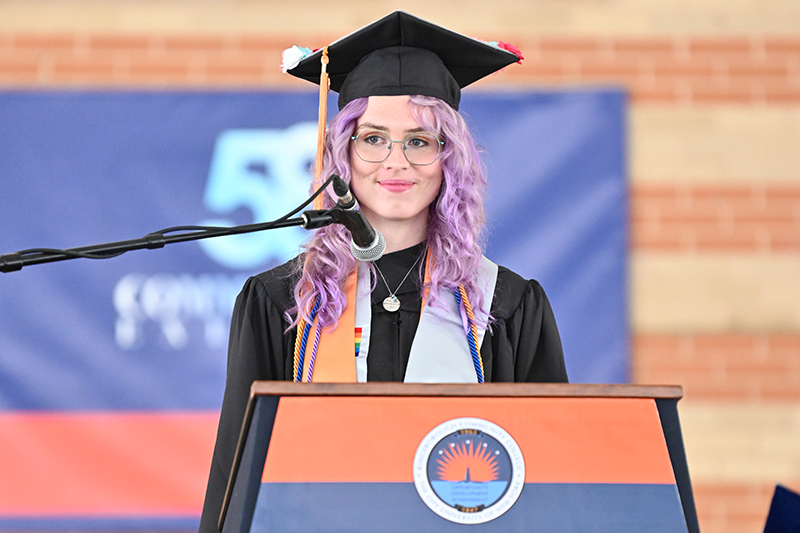 More than 1,800 Students Graduate from Kingsborough Community College at its 58th Commencement Ceremony
Brooklyn, NY — Family members and friends cheered as Kingsborough Community College celebrated its newest alumni when more than 1,800 students of the Class of 2023 graduated on June 21, 2023.
This year's keynote speaker, president and CEO of the Brooklyn Chamber of Commerce, Randy Peers, noted that "pivoting, resiliency, reimagining, and recovering" were the key words throughout COVID and their educational journey. He surmised that each student has their own COVID pivoting story but believes Kingsborough has prepared them for their next chapter. "Kingsborough excels at providing the areas of practical study that are in demand and sought after by employers throughout Brooklyn and beyond. Whatever your course of study, you are better prepared today than when you started your academic journey." He also shared that they are entering an employees' market. "For those whose next step is the job market, we desperately welcome you, as many area businesses still struggle to find talent."
In her remarks, President Claudia V. Schrader acknowledged, with a nod to Langston Hughes' poem "Mother to Son," that for many of the graduates, the higher education journey "ain't been no crystal stair." "A pandemic, a lack of finances, lack of childcare, housing insecurity, loss of employment, underemployment, health issues, family responsibilities, and the worst challenge of all, self-doubt, made climbing those stairs to a college degree difficult at times. But KCC was built to support you and ensure your ascension," she noted.
That message resonated with liberal arts major Kimlan Marin, who found Kingsborough very supportive in helping her achieve her dreams. "It's really geared to make sure we graduate, which was amazing because we have our personal lives going on. Some of us are parents … we have responsibilities. To have that support system to make sure we graduate was really awesome." She's planning on continuing her education to become a social worker.
The Class of 2023 valedictorian, Damien Niesewand, agrees. He grew up in Minnesota and, because of a series of personal challenges, barely graduated from high school. Resigned to working minimum-wage jobs for the rest of his life, he relocated to New York during the pandemic where he had an opportunity to reflect on his life and took the first step in pursuing his education by applying to Kingsborough. "It felt like the first step in a journey I'd been denying myself for years," he shared. "While I didn't know what to expect when I first enrolled, I immediately discovered an incredibly supportive and attentive environment. It was a relief to have access to a faculty genuinely invested in my success." In his address, he thanked every professor, especially those who "let us haunt their office hours, responded to our frantic 2 a.m. emails, and took a genuine interest in our personal progress, even after the semester ended."
Damien ended his time at Kingsborough as an honor student who made the Dean's List for three consecutive semesters, earning A pluses in his classes. He held leadership roles as the chapter secretary of Phi Theta Kappa, the international honor society, vice president of the Media Club, and a member of the LGBTQ+ Alliance. He was awarded the Dean's List scholarship in fall 2022 and five additional awards and scholarships this week. Most important, he walked away with purpose, acknowledging Prof. Jeremy Sawyer for nurturing his passion for psychology. "Being validated for my achievements in this way has fundamentally changed the way that I view myself as a student. Kingsborough encouraged me to dream about the future again, and I dream big: from a bachelor's degree to a doctorate to my own clinical practice."
The KCC president reminded students that there is more to their stories: "The event is a commencement because you are not finished. You're just getting started. You have a few more stories to climb, degrees to obtain, careers to master, and dreams to make come true."
Many graduates have already mapped out their next steps. Tracey Lapore is part of the CUNY Justice Academy, which allows criminal justice students to seamlessly complete their bachelor's degree at John Jay College of Criminal Justice. Her goal is to eventually earn a master's degree and work for the FBI. KCC scholar-athlete Hagar Elwan will transfer to Hunter's psychology program and is looking forward to the new experience of playing volleyball and basketball at her new school.
The class of 2023 included 195 veterans, including Navy veteran Richard Glazunov, who will be heading to Harvard University in the fall to major in government with a specific focus on public policy, and a minor in psychology. True to the Navy's unofficial motto, non sibi sed patriae (not self, but country), he plans to use his military background to bring attention to veteran issues. "There are a lot of issues," explained the 26-year-old. "I want to establish some reform, especially in the veteran community, because we are missing many benefits.
Over 40% of the class graduated with grade point averages of over 3.5, 16 with perfect GPAs of 4.0 including Class of 2023 salutatorian, Chouaib Fadili, who didn't speak a word of English when he came to the United States. The business administration major is also one of 187 graduates of KCC's Accelerated Study in Associate Programs (ASAP) program, committed to graduating at least 50% of students within three years by providing structured and wide-ranging services, and removing many financial barriers to completion. He heads to Baruch College this fall.
Taking advantage of KCC's unique 12/6 calendar, which allows students to take up to 26 credits between a 12-week fall/spring session and a six-week summer/winter module, over 100 students completed their degree in two years or less.
The youngest of the class of 2023 included 72 students from the Kingsborough Early College Secondary School, who simultaneously earned their high school diploma and an associate degree in liberal arts, many with honors. One student, OJ Titus, said it was a surreal moment for him. "I grew up in Jamaica, a place where you don't really think you'll get to college. The fact that I moved to America and I'm in this space is a crazy feeling," he shared. "I'm glad I'm able to make my family proud back home." He's moving on to SUNY Polytechnic to pursue a career in engineering and will be taking part in a two-year internship with a company that makes semiconductors.
Before conferring the degrees, the president emphasized that they are starting this leg of the journey armed with a college degree, but warned: "Don't get it twisted. Your degree is not a weapon; it is a tool. It comes with great power and even greater responsibility. It will help you to build bridges and tear down walls of intolerance. It will help you to fix the issues we are experiencing in our communities and break the cycles that are detrimental to progress. It will propel you to both the front line of many careers and the front offices of leadership. It is a tool that will take you to the next level while keeping you grounded in your purpose. It is a tool that would open doors, but you must do the work and walk through it. And when you do, grab someone by the hand and take them with you. Use this tool, your college degree, to make a difference in your life and in someone's life. Volunteer, extend a helping hand and give back to your communities and your soon-to-be alma mater."
At this morning's peace vigil, sponsored by KCC's Student Union and Intercultural Center (SU&IC) in conjunction with the Office of Student Life, faculty, staff and students held tea light candles in the dimly lit room as they gathered in the name of peace to support and honor their fellow community members both here and abroad.
The purpose of KCC's Interfaith Meet, Greet and Eat was to help bring the campus faith communities together to form a connection and good relationships.
Kingsborough Community College is advancing its commitment to diversity and science education with the launch of the "Here 2 Observe" — or H2O — cohort program.