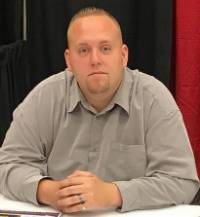 Biography
Patrick Hickey Jr. Lecturer, has been a member of the KCC faculty since 2006 and a Full-Time Lecturer since 2014. He is currently the Assistant Director of the Journalism Program and serves as the Faculty Advisor of the Society for Collegiate Journalists and the school's newspaper, Scepter in addition to serving on the Local Perkins Grant Advisory Committee and the English Department's Technology committee.
Over the past 12 years, Hickey Jr., award-winning editor and writer has interviewed some of the biggest names in sports, including David Wright, Martin Brodeur, Negro League Legend Buck O'Neil and MLB Hall of Famers Jim Palmer and Mike Schmidt.
Hickey's passions also transcend sports. He's interviewed Tony Award Nominee and musician Adam Pascal, actors Channing Tatum, Paul Walker and Philip Seymour Hoffman, while conducting one on ones with comic book writer and artist David Mack, Voice-actor Dana Snyder, as well as Pro Wrestling Legends Daniel Bryan, Harley Race, The Ultimate Warrior, Bob Backlund. His upcoming book from McFarland and Company delves deep into the video game industry, chock full of interviews with legendary developers.
He has also proven himself as a music journalist, interviewing Guns and Roses Drummer Steven Adler, Pantera's Rex Brown and Creed's Mark Tremonti.
Hickey was also the Editor-In-Chief of two College Newspapers before he received his BA in Journalism from Brooklyn College. He has had his work published in The New York Daily News, The New York Times, Complex, The Hockey Writers, Yahoo!, Broadway World, Examiner, Old School Gamer Magazine, Bay Currents Newspaper, where he served as the paper's Sports Editor, the Brooklyn Papers, the Wave of Long Island, Brooklyn Free Press, Blasting News, Tri-Games.net, The Lo-Down, the Brooklyn View, NYSportsday.com, NYSportScene Magazine, ProHockeyNews.com, GothamBaseball.com, The Syracuse Post-Standard, BBallCentral.com, PlayLikeAGirlSports.com, NYCityWatch.org, Scout.com and the official sites of the Brooklyn Aces and New York Islanders.
Hickey is also the Founder and Editor-In-Chief of ReviewFix.com, as well as a former News Editor at NBC Local Integrated Media and National Video Games Writer at Examiner.com, where his work was mentioned in National Ad campaigns by Disney, Nintendo and EA Sports.
Hickey's first book, The Minds Behind the Games: Interviews With Cult and Classic Video Game Developers is scheduled for release in January 2018, while his contributions (over a dozen entries) to Video Game Historian Brett Weiss' Super Nintendo Omnibus, a collection of stories by some of the best video game writers in the world and their connection to Nintendo's famed 16-bit system, is scheduled for release in Spring 2018.
Hickey is also an accomplished voice-actor. He plays the titular character in Shotgun With Glitters' upcoming Survival Horror game, The Padre, which is scheduled for release on Steam (and later Android devices and possibly the Xbox One and Nintendo Switch) sometime in 2018.
Hickey lives in Brooklyn with his wife, Melissa, daughter Josie and dog, Meatball and cat, Isis.
Education
MA from the CUNY Graduate School of Journalism - Journalism and Arts and Culture
BA from Brooklyn College - Journalism and History
AAS From Kingsborough Community College - Journalism and Print Media
Selected Publications and/or Other Resources

Freelanced photos and articles to numerous print and online publications, such as The New York Times, the New York Daily News, Yahoo!, The Syracuse Post-Standard, The Lo-Down, the Brooklyn Papers, the Brooklyn View, the Wave of Long Island, the Brooklyn Free Press, NYSportScene Magazine, GothamBaseball.com, BBallCentral.com, Examiner.com, PlayLikeAGirlSports.com, NYCityWatch.org, ProHockeyNews.com, NYCityNewsService.com, Trigames.net and Scout.com.
Awards Recognition, Distinctions and Grants

2008 Blog of the year for work on TheDriveForFive.com from YesIslanders.com

Sam Castan Journalism Award at Brooklyn College, May 2008.

Journalism & Print Media Program Award at Kingsborough Community College, 2006.

Phi Theta Kappa, Kingsborough Community College, 2005-2006.

Gold Award in Columbia Press Association, as EIC of Scepter, Fall 2005.
President of the Society of Collegiate Journalists, Kingsborough Chapter 2005-2006