KCC Faculty on Teaching
''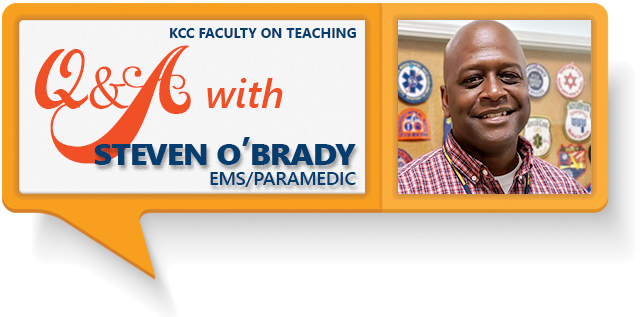 Q&A with Steven O'Brady
EMS/PARAMEDIC
How did you get into teaching?
After 20-plus years of working in prehospital care as a 911 EMS paramedic, I got into teaching. A current co-worker thought I would be a good fit for teaching. I was initially a bit apprehensive, so I observed him teaching and thought, "Okay, let me give it a chance." Seven years later, I'm still going strong and learning every day.
What career did you imagine for yourself when you were in college?
The career I imagined for myself was physical therapy or orthopedic surgery. I was working in a hospital as a pot washer while attending college for physical therapy prerequisites. The owner of a private EMT school rented out the cafeteria space in the evening. As I was cleaning the area, I noticed a flyer that said EMT training, 6 pm -10 pm, three days per week. My shift ended at 5 pm, so I decided to give it a try. The fast pace and dynamic field of prehospital care was such an attention grabber, I never looked back.
What do you love about teaching?
I love having the opportunity to make a positive outcome for students to carry over into firsthand lifesaving skills and knowledge, especially during the COVID-19 pandemic. One student said my calm disposition gave her added confidence to become a paramedic in these unprecedented times.
What's your favorite teaching experience?
My favorite teaching experience is finding ways to explain difficult concepts and seeing it register with my students. For example, one student was having trouble understanding what shock is. She found the textbook examples confusing and vague. By definition, shock is a critical condition brought on by the sudden drop in blood flow through the body. I used a water bottle analogy to explain how changes in position, along with the amount of fluid, can make a difference to a patient's skin color, temperature and level of orientation.
In what ways do you bring your professional experience into the classroom?
I bring real medical emergencies that I have encountered in the field and then create simulated scenarios to mimic an objective and subjective approach to patient care, treatment, and management. For example, while doctors and nurses have the luxury of having multiple medical resources, lab work, x-ray, ultrasound, etc., paramedics can only work with what we have in the critical time that is allowed. I prepare my students to deal with things like poor apartment visibility, extreme weather conditions, and small workspaces. Optimal patient care must and always be provided, no matter the limitations.
What advice do you have for current students?
My advice for current students is to take the time to understand their role in the field of prehospital care. We are not there only to save lives: Sometimes, we need to be an active listener. Not everyone is dying. Some people are having a difficult time, which creates unwanted stressors in life. Having respect and empathy for each other goes a long way. It's a gift we are born with.