Q&A with Dr. Shannon Caravello | HEALTH & SAFETY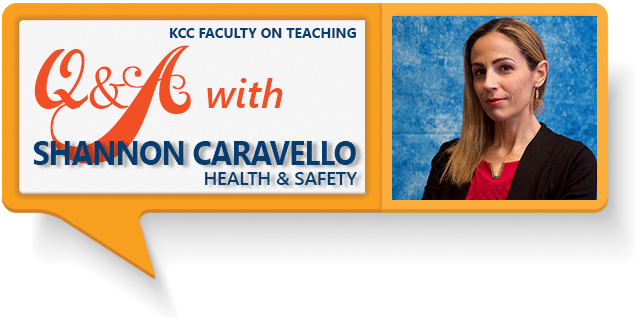 How did you get into teaching?
I was encouraged to teach by Chris Fey, the director of Kingsborough's exercise science program. At the time, I was working in the fitness industry and happened to be taking classes at KCC. She saw something in me and encouraged me to go from taking courses at KCC for fun to teaching courses. As a jujutsu practitioner experienced in women's self-defense, I was hired to teach PEW 2100-Women's Self Defense and expanded into a variety of other health and safety courses over the years. This set me on the graduate path where I attained an M.S. in education, and then I moved into environmental and occupational health, earning my doctorate, where I am able to explore human and environmental health, especially as it relates to urban agriculture.
What career did you imagine for yourself when you were in college?
As a graduate of the High School of Fashion Industries and the Fashion Institute of Technology (FIT), I expected to move into fashion and costume design. While at FIT, I moved into merchandising management and entered the field after graduation but ended up leaving the industry and moving towards fitness. I am a big believer in following opportunities, so when the option to teach opened up, I trusted the process, moved forward with it and love where I am now!
What do you love about teaching?
I absolutely love our students! We have such a diverse student population, and I find myself learning so much from them every semester. I love watching them form relationships and share their life experiences, and I am humbled by their determination to achieve a degree, regardless of what obstacles are in their way.
What's your favorite teaching experience?
I recall being at an event at KCC where a student stood up and started talking about the benefits of organic gardening and farming and its impacts. She was talking about changes to the food system. It took me a minute to realize it had been a former student of mine from a while back who had no knowledge of any of these topics before my class. Here she was, loudly and proudly advocating, years later! I realize I had literally planted a seed in her head to question what she ate years before, and she just ran with it. That was really awesome to see, and I was so proud of her!
In what ways do you bring your professional experience into the classroom?
This is a hard question for me to answer because I have so many diverse experiences, teach a wide variety of topics, and have worked in a few different industries. I would have to say that I enjoy teaching students to be unique to who they are and do what they love, no matter what industry they end up in. Identify what your ultimate goal is, backtrack and do the research on how to achieve that goal. Set a plan in place and just keep going forward. Consistency wins all.
What advice do you have for current students?
Cut out, and shut out all the haters. Ignore those negative voices around you and those in your life who want to tell you how to live it. Start believing and trusting in yourself, develop a strong sense of who you are and what you want out of life and go get it! It's your life, live it to the fullest.