KCC Faculty on Teaching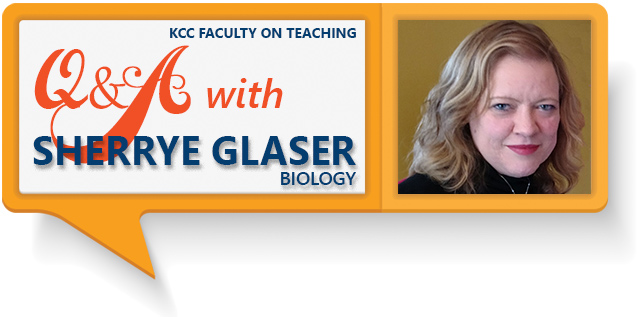 How did you get into teaching?
I began my teaching career as a medical researcher mentoring students in a laboratory. I found it very rewarding to transfer my skills and knowledge to the next generation of scientists. Inspired by this experience, I began a fellowship with the Howard Hughes Medical Institute to develop my pedagogical skills. The fellowship led to me teaching undergraduate neurobiology at Stony Brook University. I discovered that I loved to teach. I eventually shifted my career focus from research to teaching and subsequently accepted a position in the Department of Biological Sciences at Kingsborough.

What career did you imagine for yourself when you were in college?
I began my undergraduate experience as a pre-med student at Stony Brook University. During those four years, I decided to pursue a career in research. I continued my academics and earned my PhD in molecular biology. My research career focused on neuropharmacology – the study of the effects of drugs on and in the nervous system – and stretched 12 years at both the Center of Translational Neuroimaging at Brookhaven National Lab and Stony Brook University.

What do you love about teaching?
The students at Kingsborough are a remarkable group. The diversity of our student body could only be found in Brooklyn. It is wonderful to have the class generously share their personal experiences and heritage with the class. There is a sense of community at the College that is not often felt in academic institutions. It is heartwarming to see students complete their academic goals and blossom into professionals.

What's your favorite teaching experience?
The most fulfilling part of teaching is seeing students develop an inner confidence and overcome personal obstacles. Students often arrive at Kingsborough feeling a bit unsure of their abilities. For some, English is a second language. Others are challenged by learning disabilities. It is phenomenal to watch students tackle and overcome these challenges.

In what ways do you bring your professional experience into the classroom?
Prior to becoming a professional scientist and educator, I spent many years as a "professional student." I remember the mistakes I made while pursuing my academics. I often share with students what I learned, giving them tips on note taking, organizing their schedule, staying resilient, and adopting time-effective study techniques.

What advice do you have for current students?
If you are not confident about a subject, boldly tackle it head-on. While it is certainly a time investment in the short term to take remedial classes and improve yourself in that weak area, ultimately, your confidence will permanently increase as that weight is lifted. My second word of advice is to see college as a contract you are making with yourself. Set-up your phone calendar with blocked out times for both your classes and also daily time to study. Adhere to that schedule the way you adhere to a work schedule. Not giving-up and prioritizing your academic schedule are the two most critical traits underlying student success.