KCC Faculty on Teaching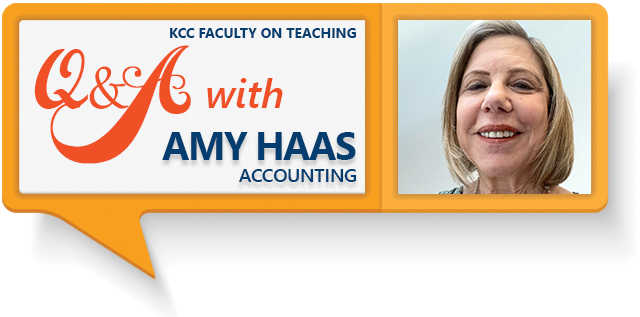 How did you get into teaching?
I was a practicing certified public accountant (CPA) until the birth of my daughter. I decided that teaching would be a way to move my career in another direction that would be more flexible than working in the accounting field. I have always loved learning and when you teach you are learning. It seemed like a perfect combination.
What career did you imagine for yourself when you were in college?
I really did not have a clear idea of what it would be like to work in the accounting field. I just knew I loved accounting and I was not sure where it would take me. I was a trailblazer. I was one of only two women hired by the accounting firm I worked for. The field has changed greatly since then and now more than 50% of accounting professionals are women.
What do you love about teaching?
I love the interaction with the student. It makes me happy when I can share my love and understanding of accounting with them. For me, the best part of teaching is helping students resolve problems. I love having past students come back to share their experiences with students.
What's your favorite teaching experience?There have been many good ones. I remember the funny ones the most. For example, a student once submitted a scan-tron with the first eight questions blank. When I suggested he at least make a guess for the blank questions, he responded his exam began with question nine!
One of my favorite experiences was with an underprepared student who was a very nice "kid" and really wanted to succeed, but was very disorganized. He began the semester showing up late and got a very late start on class assignments. He would lose all the class handouts immediately. I spoke to him about these issues and even suggested he retake the class because he was so far behind. (In accounting it's very difficult for students to catch up with late work.) As a sports management major, I was concerned he did not have the foundation to pass the class. He persisted and told me he needed to pass this class this semester. Not only did he do a 360-degree turn-around, showing up on time, getting a tutor, but he excelled. It reminded me never to give up on a student, and that motivation and determination are some of the most important qualities for success.
In what ways do you bring your professional experience into the classroom?
I like to share "war stories" with students. I tell them about some of the silly things I did when I first started out. I like to have my past students share their stories with the class too.
What advice do you have for current students?
Good planning is a key to success in school and in life. Many students do not plan well and that is the primary reason they don't succeed. Going to college is a job, and like any job, you must schedule your "hours." One of the first assignments I give to my students is to complete a weekly schedule, designating the time they will work on their coursework for all their classes. I ask them to include work hours, family time and leisure activities. Students find this helpful because it forces them to be realistic about what they can accomplish.