Q&A with Patrick Hickey Jr. | JOURNALISM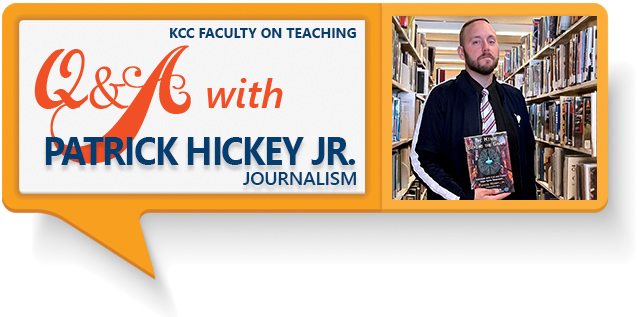 How did you get into teaching?
I began teaching after receiving my associate degree in journalism from Kingsborough in 2006. That summer, I began working in L219, instructing remedial English labs and performing one-on-one tutoring. I essentially have never left KCC. I went to Brooklyn College and graduated in 2008 with a bachelor's degree in journalism. By September 2008, I was hired at KCC as an adjunct professor in the English department. Two years later, I became assistant director of the journalism program (with simultaneous stints at NBC, Brooklyn College and John Jay along the way). Fast forward 12 years, I'm now an assistant professor and director of the journalism program, as well as the chairman of the CUNY Journalism Discipline Council. CUNY and KCC are my Hogwarts. Without them, I don't know where I'd be.
What career did you imagine for yourself when you were in college?
I always knew I'd be a journalist and a professor. Once I began working in L219, I realized how much I loved working with students. Being in academia gave me the time to also focus on building a career in journalism and publishing. It was a dream I'm happy to say that I accomplished and still live every day. Not many can say they have a wonderful full-time job at a university and still have the time to have a family, wife, and children, own a comic book company, and write books about video game history that are read worldwide. Kingsborough has given me that opportunity, and it may sound crazy – but it was my plan all along. I knew how special this place was from day one and never wanted to leave.
What do you love about teaching?
I love the experience of knowing you're having a legitimate impact on youth who need it and adults looking for motivation. Our pool of students is so diverse that you also learn about yourself through teaching them. In the nearly 17 years I've worked here, there isn't a day I haven't left without a new lesson learned.
What's your favorite teaching experience?
This past September, I gave a panel titled "The History of Wrestling Video Games" at PAX West, one of the biggest gaming conventions in the world. I was flown in by Skybound Games to do the talk. Skybound is owned by Robert Kirkman, the creator of The Walking Dead. When I got ready for my panel, I was greeted by their press team. I immediately recognized one of them. "Ranese!" I screamed. You see, Ranese Southerland was my journalism student in 2011. The first article she published in the school newspaper was about...you guessed it: The Walking Dead.
In what ways do you bring your professional experience into the classroom?
As a published author, entertainment website owner, comic book writer, former NBC editor, dad, husband and KCC graduate, I feel like I've been down the same road as many of these students and can help get them on the path they want to be on. I love telling stories in class, but I feel my biggest skill is being able to listen and be honest with our students. That's what they ultimately crave the most: an ear and a heart that comes with it.
What advice do you have for current students?
Stay hungry, work hard. You're tougher and smarter than you think. You have a bigger support system than you ever dreamed. Use the resources of Kingsborough while you're here and opportunities will become available. The slogan isn't wrong: Dreams do begin here.