KCC Faculty on Teaching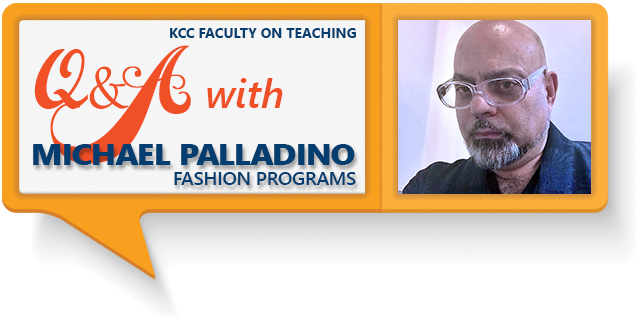 Q&A with Michael Palladino
FASHION DESIGN

How did you get into teaching?
As the director of client and studio services at Henri Bendel, I would often host tours for colleges around the country and globally. I took students through the building and discussed high-end fashion, design, marketing and my own pathway. One of the tours was for a group from KCC. When the tour was completed, the tour facilitator pulled me aside and said "Someone from KCC will be reaching out to you soon." And the rest is history.
What career did you imagine for yourself when you were in college?
I was a French and Italian major with minor concentrations in art history and anthropology. I thought teaching at the college level would be my future, but a career in luxury retail dominated. Somehow my original goal came to fruition; a new calculation of "hidden figures."
What do you love about teaching?
I appreciate that I can empower students to find their own voices and develop their talents and interests through building trust and instilling confidence. As a first-generation college student, I understand the power of someone believing in you. I strive to be that person.
What's your favorite teaching experience?
A very capable student had become overwhelmed by a demanding work schedule, a demanding school schedule and family demands. He had lost his confidence and, frankly, his trust and was ready to walk away from school. I knew this student had great promise: The work he submitted was exemplary. After a few emails and phone calls, we worked out a plan and he completed the course with a B+. He has continued in more of my classes this semester and is an A student. When we spoke following a recent exam, he paused and said to me, "Professor, I want you to know you are the reason I have stayed the course. Without your pushes, I would not be on the path to a fall graduation. Thank you." I must say, in that moment, knowing I had changed the trajectory of this student, I was humbled and proud to have been a small part of his success. He was recently recruited for a new job with a great starting salary – a proud moment for us both.
In what ways do you bring your professional experience into the classroom?
Having just left the world of fashion, and having cultivated relationships with industry insiders, I share personal experiences to illustrate topics from textbooks and articles to make relevant connections to the material. For my Field Study Capstone class, I brought in six speakers who participated in a Q&A with students. They got to engage with fashion industry people and had the opportunity to build a professional network of contacts for their own purposes. They even got to meet and interact with the author of our textbook: Precious L. Williams!
What advice do you have for current students?
Never measure your own success with someone else's ruler. Find what makes you eager, ask questions, and be humble. Know what you don't know and find it out! It's all within reach. (If not, get a ladder!)