Q&A with Evrick Brown | SOCIOLOGY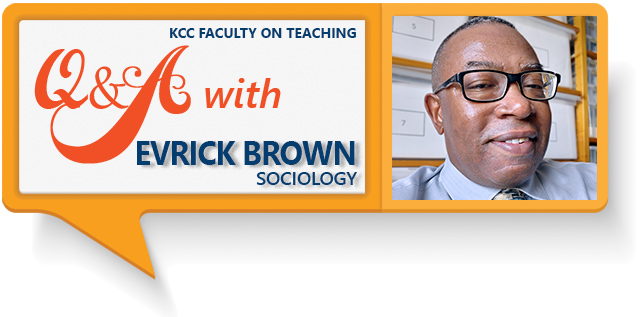 How did you get into teaching?
In graduate school, teaching was part of my training. I co-taught a "Statistics for Sociologists" course for one semester Afterward, I taught it on my own along with other sociology-related courses like Community and Urban, Social Problems, and Introduction to Sociology.
What career did you imagine for yourself when you were in college?
At one point, I was interested in the natural sciences, pondering the idea of going into biochemistry or the medical field. While I was an undergrad, we were required to take a range of courses, including those in the humanities and social sciences. There was one course on social movements that piqued my interest and alerted me to the process of understanding the impact of culture and its intergenerational transmission. Afterward, I declared sociology as my major and proceeded from there.
What do you love about teaching?
I know it is a truism to state that teaching and learning go together, and I have come to appreciate the ability to give informative and clear dialogue. Over the years that I have been providing instruction, my teaching dynamic has and continues to evolve to become more customizable as I have been exploring differential pedagogical modes to enhance learning. This all culminates in student knowledge acquisition; it is when the students can display acquired knowledge and gain learning skills of their own that brings me the most satisfaction.
What's your favorite teaching experience?
Rather than simply providing instruction with the students sitting and copying what they see on the screen in front of them or what I am lecturing, I prefer it when they are actively learning themselves. For example, I was teaching a course in urban studies with an enhancement of visual methods. I had students go into their neighborhoods, capture images that they thought were relevant and present their community profile, supplemented by demographic data provided by the New York City Planning Department. They compiled this information into a presentation illustrating the differential ways of seeing their living environment.
In what ways do you bring your professional experience into the classroom?
My most memorable learning experiences as a student have occurred outside of the fixed and scientifically managed classroom environment. To me, the classroom represents a forum or environment where a trajectory of learning begins. I see myself as a coach, encouraging students to learn on their own, outside of the physical space of a classroom. One of the conceptual designs that I wish to instill in my students is the idea of cultural capital: resources they can use for an enhanced living experience – something they can take with them as they participate in their life's journey. I have had them engage in class exercises where they address problems such as developing a household budget and thinking about those around them who have influenced who they are and have shaped their social personality.
What advice do you have for current students?
Always read the syllabus, course instructors go to some effort to construct them and many of your questions have been answered in them. Being able to find your own answers to questions is always a plus, and, as hackneyed as it may sound, believe in yourself. Having the internal strength to believe and achieve your goals sustains your focus, enhances your confidence, and gives you the drive to overcome the obstacles to your success.