KCC's Black History Month 2021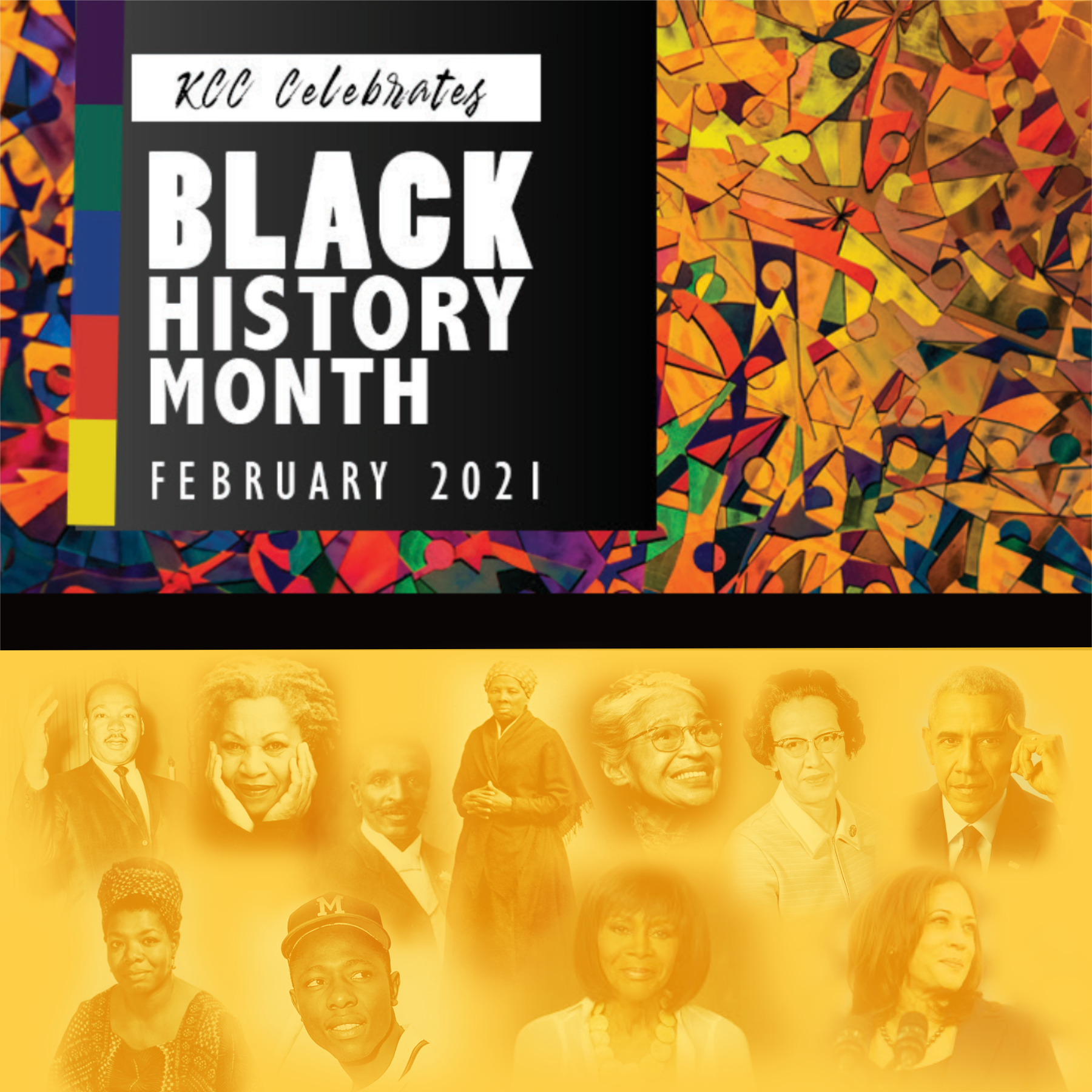 We may be online but are staying connected! Enjoy Student Life's virtual programming on your laptop and your phone! As we continue Distance Learning, Student Life has a variety of events, giveaways, and opportunities to build community at Kingsborough.

To get information on events, check out our website and follow us on Instagram: @kccstudentlife!
---
Event: Cyphers for Justice
Description: Cyphers for Justice apprentices NYC High School youth, incarcerated youth, and NYC teachers as critical researchers through the use of hip hop, spoken word, digital literacy, and critical social research methods. Join us in the Youth Participatory Action Research (YPAR), hip hop, and spoken word performances of two young scholars. We will explore how to elevate Queer Black and PoC student voices and explore how school systems have a unique role in stopping violence against BIPOC.
Date: Monday, February 8 2021
Time: 4 PM
Location: @kccstudentlife IG Live
---
Event:
Black History Month Trivia with Campus Activities Board
Description: Test your knowledge on Black History Month trivia with Campus Activities Board on Kahoot! To play, download Kahoot! or use the link and code provided on the @kingsboroughcab and @kccstudentlife bios. Code and link will be posted Monday and will be available until Wednesday. Winners will receive electronic gift cards to use towards the KCC Bookstore.
Date: Monday, February 1, 2021 - Wednesday, February 3
Time: All Day on Kahoot! Trivia
Location: Link will be posted day of on @kingsboroughcab and @kccstudentlife bios
---



Event:
The Kindred Tour with Ariana Brown and Alán Peláez López
Description: Combining Brown's 10-year-long spoken word and teaching career and Peláez López's 10 years of organizing with Black and queer migrants, this tour creates an interactive experience that addresses the joyful and traumatic conditions of the Black child in the U.S.; imagines Black queer futures outside of state-sanctioned violence; and offers concrete tools to help individuals and their communities rethink how we offer and accept care from one another.
Date: Wednesday, February 3, 2021
Time: 3 PM
Location: @kccstudentlife IG Live
---



Event:
Black Disabled Lives Matter: Voices and History of Black Disability Justice
Description: The inspiring surge of Black Lives Matter activism of 2020 included a new wave of Black disability activism. This is critical, given estimates that one-third to one-half of police killings are of Black people with disabilities, who face multiple oppressions of racism, class inequality, and ableism. Today's fight for Black disability justice is rooted in past Black disability activism and Black power movements, from Harriet Tubman to Brad Lomax and the Black Panthers. Join us for a conversation with pioneering Black disabled activists to learn about this history of Black disability activism and how the movement must continue to fight for justice in our times.
Date: Wednesday, February 10, 2021
Time: 1 PM
Register in advance for this meeting:
https://zoom.us/meeting/register/tJAtdOqprj4sE9xJzK7RF_b9vvxJw0V3mKn_
---



Event:
Harriet Tubman Herself
Description: An entertaining and educational one-woman show based on the life and times of Harriet Tubman. Harriet's harrowing and dangerous life unfolds as she tells the moving story of how she brought hundreds of slaves - and her own family - to freedom during the Civil War. Actress Christine Dixon tells the story of Tubman's life in this dramatic one-woman performance about the heroic "Moses" of her people.
Date: Tuesday, February 16, 2021
Time: 8 PM
Register in advance for this meeting:
https://us02web.zoom.us/meeting/register/tZApdO2gpjMrGdOCm24Y4TXNXfLedZv0XMXu


---



Event:
Reading Music and Listening to Books
Description: Dr. Alexis McGee is an Assistant Professor of English at The University of Alabama. Her research includes Black Feminist Theory, African American language, literacies, and rhetorics. This discussion focuses on the relationship between music, rhetoric, and writing. How do our Listening practices intersect with what we read? And, how do we write about it?
Date: Wednesday, February 17, 2021
Time: 3 PM
Location: @kccstudentlife IG Live